Attachments by Rainbow Rowell
We interrupt the summer schedule to bring you an amazing novel: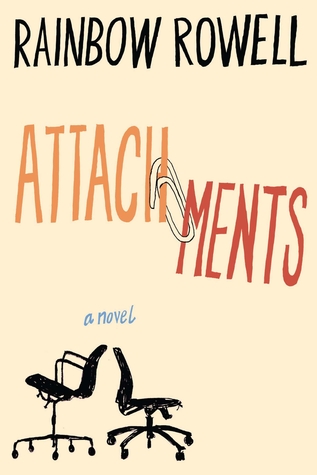 "Hi, I'm the guy who reads your e-mail, and also, I love you . . . "
Beth Fremont and Jennifer Scribner-Snyder know that somebody is monitoring their work e-mail. (Everybody in the newsroom knows. It's company policy.) But they can't quite bring themselves to take it seriously. They go on sending each other endless and endlessly hilarious e-mails, discussing every aspect of their personal lives.
Meanwhile, Lincoln O'Neill can't believe this is his job now- reading other people's e-mail. When he applied to be "internet security officer," he pictured himself building firewalls and crushing hackers- not writing up a report every time a sports reporter forwards a dirty joke.
When Lincoln comes across Beth's and Jennifer's messages, he knows he should turn them in. But he can't help being entertained-and captivated-by their stories.
By the time Lincoln realizes he's falling for Beth, it's way too late to introduce himself.
What would he say . . . ?
My take:
Attachments
was so engaging, that it made me giggle, and read parts out loud to my husband. My husband, who is not a reader, (cringe, I know) even found this exchange funny. "Your car smells like juice boxes. Well, you smell like Pier One and BO. It's sandalwood! I didn't say I didn't like it." That's just an exchange between secondary characters. Ms. Rowell has taken a stereotypical dungeons and dragons group, and given them nuances, so we see beyond the stereotypes. Even our main character, Lincoln, recognizes the stereotypes, as he tries to figure out which one he is. We only meet Jennifer and Beth, through their emails, and yet, we get to feel like we know them. We see everything the way Lincoln sees it, confusing, sympathetically, compartmentalized, and finally related.
My friend and I think that Rainbow writes the best book boyfriends. We want a double date with Lincoln and Levi. Levi is from
Fangirl
(click to read my review.) Rainbow writes leading men who are regular, ordinary guys. Great guys, thoughtful, trying to do the best they can guys, real guys. The kind of guys girls say they want, but pass over in favor of the shirtless, alpha bad boy, who is fun to read about, but not have in real life.
While this book is marketed towards adults, the characters are in their late 20's, I think my student RR fans would like this, too. The thought of someone's job being reading other people's email would probably freak them out, but I can remember when that was happening in my work place. There is nothing in this book that would make it inappropriate, or off limits to my students. So, it's decided. I'm buying it for PHS. :)